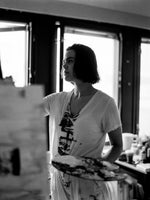 Welcome
I am Katharina Schmidt, a Finnish-German contemporary artist from Helsinki, Finland. I grew up in a melting pot of different cultures and in my art I explore fundamental questions about existence that transcend language and habit. 
To me art is the mirror of humanity - it shows what we as humans experience beneath the surface in ways that other methods cannot. 
Welcome to explore a world of creativity, courage, uniqueness and unity.
Follow my journey on Instagram: @artist.katharinaschmidt
Latest exhibition: GOLDEN HOUR
Marski by Scandic
Mannerheimintie 10, Helsinki